Date of Report: March 12, 2020
Introduction
In part one of my investigation into the crisis at the OPCW, I discussed the 'flip-flopping' of Director-General of the OPCW, Fernando Arias, on his position regarding the Douma FFM "Engineering Assessment" penned by Ian Henderson.
His position went from claiming the report was "part of the investigation" to insisting 'it wasn't accepted because it pointed to attribution' then ended up becoming, 'it was the unauthorised report of a rogue inspector who wasn't even part of the FFM team'.
I noted Brian Whitaker's role in trying to dox an OPCW whistleblower for no other reason than to cause him harm and distress.
I then concluded by highlighting how Eliot Higgins and Gregory Koblentz had been receiving information from an OPCW source which Fernando Arias seems to have no interest in investigating thus suggesting that some leaks are good, others not so good.
In the second part I tie up loose-ends on the roles of Koblentz and Phillips and explore the the OPCW 'partnership' with Bellingcat that Higgins unwittingly admitted to before being told to remove the statement.
This second part was to be centred on the identity of the person inside the OPCW that was responsible in attempting to dox "Alex". I have explained elsewhere that I have decided against doing this, for now.
Koblentz's Role
The OPCW-JIM report into Khan Sheikhoun was dated October 26, 2017 and released the next day, October 27. Late in the evening of the 26th it was leaked and found its way into the hands of Al-Araby TV's, Nabil Abi Saab who covers the UN for the station.
He then didn't upload the document to Google Drive until 12:40 the following day. He modified it at 14:09.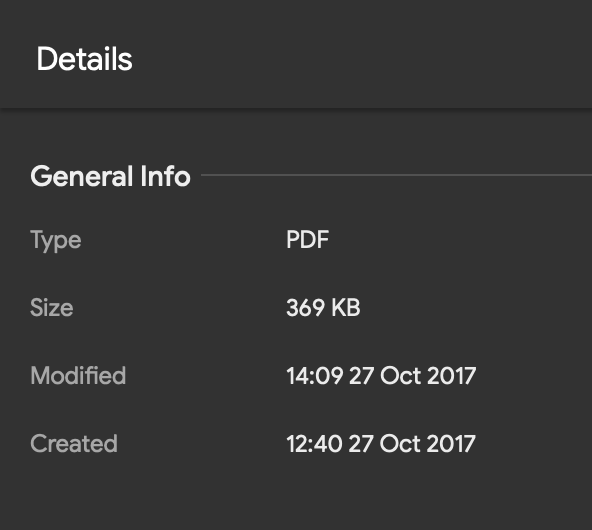 He was then given approval to make it live at 13:45 on the 27th.
From here, the communication of the leak is routed through Phillips then out to Koblentz, I am told. From Koblentz then eventually onto Higgins. My source cannot connect Saab with Phillips so it is unclear if he notified Phillips directly or if Phillips was aware the leaked document would be going to him. None of that really matters in this instance though as Koblentz could only have been made aware the document would be leaked from someone inside the OPCW.
The leaking occurred as predicted by Koblentz.
As you will see from this exchange Koblentz advises everyone to follow Eliot Higgins ahead of the leak: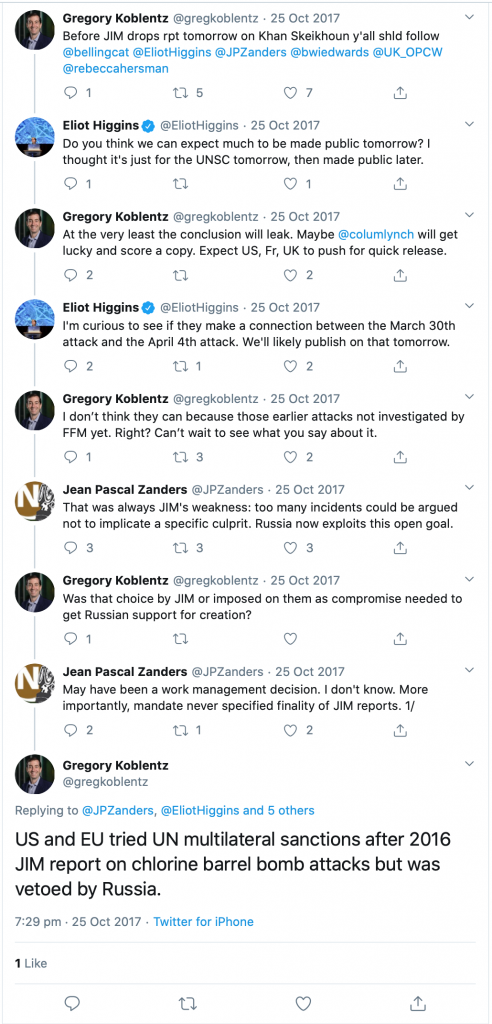 Higgins seems dazed and asks questions of what's to be expected. Koblentz states "At the very least the conclusion will leak." He then goes on to say, "Can't wait to see what you say about it."
Shortly after, a post penned by Higgins appears on Bellingcat entitled:
What the OPCW-UN JIM's Leaked Report on Khan Sheikhoun Tells Us About Russia's Denials and Syria's Sarin (Emphasis mine)
The Source tells me that the leaked report was shared with both Phillips and *redacted* as these two men contributed to the JIM's investigation into Khan Sheikhoun.
Koblentz has played an active role in disseminating false information on various chemical attacks in Syria and has worked closely with others who have done the same.
Who is Sherlock Holmes?
Len Phillips
In December of last year I began tweeting some claims made by sources on Len Phillips:
Phillips was Team Leader of "Alpha Team" (Core Team) from 2015 to 2017 when he then became a "Contractor" for the OPCW.
In 2014 then Director General, Ahmet Üzümcü. setup the FFM (Fact-Finding Mission) to investigate chemical attacks in Syria. In 2015 the FFM was split into two groups; Team Alpha and Team Bravo. Of "Team Alpha", Russia's "Permanent Representative at the OPCW, Alexander Shulgin" said:
…but then the mission was split into two groups. One, led by Steven Wallis from Britain, works in contact with the Syrian government, while the other one, headed by his fellow countryman Leonard Phillips, deals with the claims filed by the Syrian armed opposition. This latter group is working completely non-transparently. Its membership is classified, and no one knows where it goes or how it operates. They are allegedly using the same methodology as Steven Wallis' group, but they are clearly working mostly remotely, relying on the internet and the fabrications provided by Syrian opposition NGOs, and never go to Syria. At least, we are not aware of a single such trip.

Source
Shulgin then asks;
So let us honestly ask ourselves whether such a mission, in particular, the group led by Leonard Phillips, can present credible findings by an investigation?

Source
So upon formation of the Alpha Team it seems it was all about non-transparency and secrecy and worked predominately with the opposition and various opposition NGOs in gathering evidence, in secrecy, mostly in Turkey.
The above statement from Russia's OPCW representative was made in April 2017. Ian Henderson made his comments on the role of the "Core Team" in 2019.
Over the summer period I worked together with other FFM team members in the 7th floor secure work area assigned to FFM Alpha. At that stage the only FFM personnel working there were the ones that had now been designated as "core team".

Ian Henderson
He goes on:
The core team announcement caused some confusion as, with the exception of one paramedic/HSS inspector, no FFM team members that had deployed to Douma were included in this so-called core team.
The next bit of Henderson's testimony is very interesting:
In addition, at the end of the summer period when the team leader returned from holiday, I experienced some further difficulties, including: (i) I found there was a former FFM team leader, who was reportedly no longer associated with the current work, working within the FFM secure workspace (reportedly still completing a lessons-learned report). I reported this to the Head, Office of Confidentiality and Security, but nothing transpired.
I am advised that the person in question was Len Phillips. He was "assisting" the FFM Douma investigation hence why he was in the "7th floor secure work area" of the OPCW building that was specifically designated for the "Alpha Team". The team Phillips was team leader of until 2017.
Then there was the matter of the "SSA contractor" who wasn't a staff member of the OPCW, yet was part of the Alpha Team Douma investigation:
From the start I worked with SSA contractor XXXX, a former CWMS inspector, who had also been assigned to the "munition" study (despite being a SSA contractor, XXXX had also been assigned as a FFM core team member). Although he had not deployed to Douma (or to Country X),
Fernando Arias, to my knowledge, has made no attempt to explain how a non-OPCW staff member can be part of the FFM team, least of all a member of the anonymous and highly secretive "Alpha Team". However, he has went to great lengths, along with Len Phillips and *redacted*, to dissociate Ian Henderson from the Douma FFM "Bravo" team whilst at the same time trying to diminish "Alex's" role within the FFM.
It seems that after Henderson shared his work with this "SSA contractor" "to ensure a continuous peer review" , the contractor then reported Henderson's work to the Team Leader, Sami Barreck, who made the decision to 'sideline" him:
I was informed by the team leader that I did not have clearance to take part in this activity and was instructed to leave; (iii) I was told that I no longer had access to any FFM materials because I had not been designated a "core team" member;
The Working Group on Syria, Propaganda and Media wrote a detailed resumé of Phillips' role as Team Leader of Alpha Team which I would encourage all interested parties to read.
In finishing, I carried out a detailed report into the alleged Sarin attack in Lataminah of March 30, 2017. At that event it is alleged that a single Sarin bomb was dropped by a Syrian aircraft yet managed to create two separate craters, ≈250m apart that both contained Sarin. No bomb fragments were ever alleged to have been found at the site marked "Crater" yet the OPCW concluded Sarin was detected in samples given to them by the White Helmets.
Len Phillips was the FFM Team Leader for the Alpha Team in Turkey for this investigation and my source tells me that Hamish de Bretton-Gordon supplied the "Sarin contaminated samples" to Phillips and that Phillips worked closely with the late James Le Mesurier, founder of the notorious White Helmets, to select witnesses to be interviewed.
Is it then much of a coincidence that Len Phillips is the director of a company called, PhBG Consultants Ltd, Ph = Phillips, BG = Bretton Gordon?
Bellingcat's OPCW Commissioning
On February 10, 2020, Bellingcat was asked to "clarify" their claim of "collaborating" with, and being partners to, the "OPCW" in their uploaded "Policy Plan":

Higgins responded but then immediately deleted his tweet, but not before it was screen-shotted: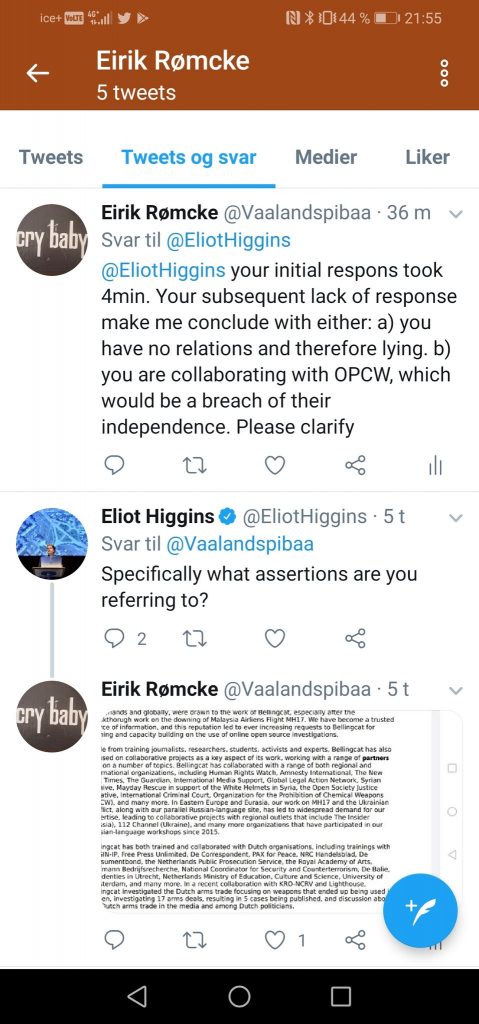 Mark from HRI picked up on the question and asked Higgins for clarification:
The most logical follow-on question to Higgins' response is, "What list"?
Higgins fell silent and has said no more on the matter.
I can reveal that Eliot Higgins, and Bellingcat, have been "collaborating" with the OPCW on a commissioned basis and they worked in 'partnership' with them on a number of projects, most recently that of the Alpha Team FFM report into Douma. When Higgins uploaded that list he was being honest, albeit boastful. When he deleted the OPCW entry, and later claimed it was uploaded in error, he was then being dishonest and defensive.
A source contacted me to say:
Eliot Higgins' is the personification of egotism. His ego has so often caught him out as it did here. The OPCW requires the strictest of confidentiality when entering into commissions with outside contractors. Higgins made a MASSIVE blunder. They don't reveal who it is they are working with for this very reason, for if people knew they were working with Bellingcat that would heavily discredit their work and leave them opened to justifiable criticism. Well, they are and Higgins was firmly told to remove the claim and accept responsibility for the error. Which he did.
A separate source also made contact with me on the matter:
Regarding the Bellingcat-OPCW cooperation. International investigative bodies like the OPCW FFM cooperate with lots of outside parties relevant to their inquiry, and require a very strict confidentiality agreement. It is near certain that Bellingcat were consulted in this case, and are not allowed to say it. The mention on their site was a slip-up that violates the agreement, and they're probably very concerned about it. This explains their behavior.
I then contacted my main source in all this again; the one that informed me of Whitaker being leaked the DG's talking-points; that Len Phillips was referred to in the Henderson submission and that *redacted* was leaking information to Whitaker, Koblentz and Higgins. I asked if Higgins had been commissioned by the OPCW at any time;
Yes. Douma at the request of *redacted*. Higgins was told to remove the reference to the organization in the Bellingcat plan he uploaded. He was then told to distance himself from any allegation of a "partnership". And he did just that 2 days later. (At this my source sent me a link to a tweet Higgins made, for simplicity I have provided a screenshot below ).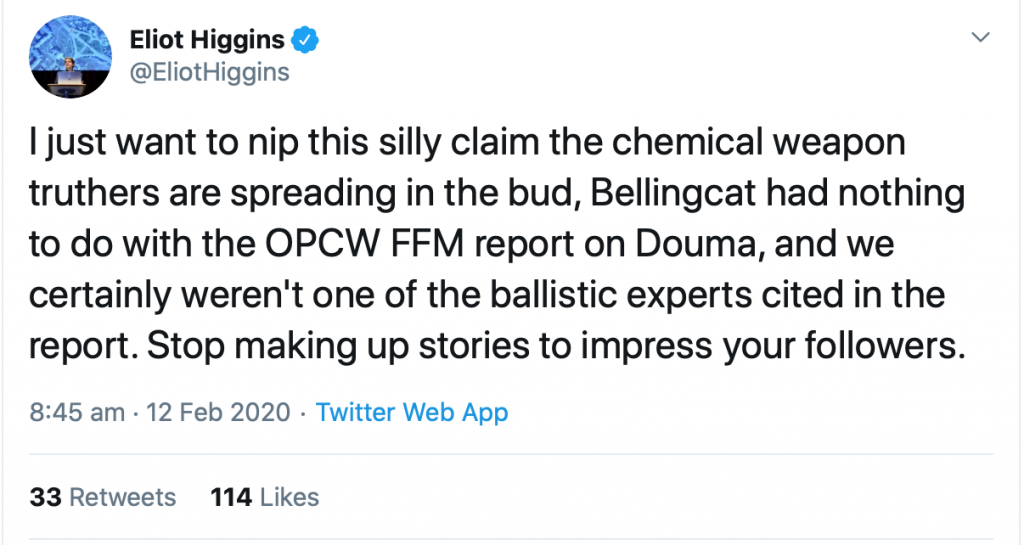 I have full confidence in this source. Bellingcat were commissioned by the OPCW on the Douma report. My source adds:
If the reports of the 3 independent experts consulted were ever released Philip, all would become clear. The organization is in tatters. Should there be any further chemical false flag attacks – the OPCW will not be asked nor relied upon to investigate. They have, as a direct result of their fraudulence around Duma, discredited themselves entirely. The morale inside the organization is quite low. Nobody trusts anybody and there's a real fear that should anyone speak out they could come to physical harm. The whistleblowers have made that clear. It's a truth. To get to the truth on Duma press for the OPCW to release the reports of these experts. Therein lies the verifiable proof the OPCW is in full coverup mode.
Conclusion
Bringing this altogether what we have is a case that some leaks are good, others bad. The OPCW-DG and UN don't seem to mind having leaks when those leaks are designed to advance their agenda. However, if information is leaked that exposes their agenda then that becomes an issue they can't tolerate.
I have learned that the world inside the corridors of power at the OPCW is a murky world of lies, deceit and intimidation and is so due to the control that the US wields over its leadership. The coup of 2002 was never undone.
I also pointed to how Ian Henderson describes a non-OPCW staff member becoming a member of the FFM whilst an ex-member (Phillips) was working out of a highly secured area with the OPCW building.
We have an OPCW that commissions Bellingcat, a vehemently anti-Syrian project that is funded by the US and UK governments, to help them with their Douma investigation whilst at the same time sidelining the very inspectors who were on the ground working in Syria. We see how the OPCW then went on to allow a current staff member to leak talking-points of upcoming DG talks to Brian Whitaker whilst allowing the same person to try and dox "Alex". That in itself suggests a sleazy, immoral run institution that shares more in common with a mafia syndicate than it does a professional global institution.
There are many players in this game; from Gregory Koblentz, to Brian Whitaker to Colum Lynch and Eliot Higgins – they each are selected to receive information and carry out roles they are deemed best suited for.
But the truth is coming out slowly and will continue to do so as more whistleblowers gather the courage of their convictions. In time, I will release more information as and when it's appropriate to do so.