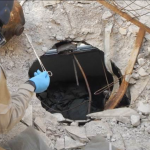 This report looks at the characteristics of the L2 Douma Crater and compares theto other artillery craters.
You may recall my report of the 18 August 2019 in which I addressed the claims made by Eliot Higgins of Bellingcat that he had, "established a Syrian M4000 Sarin bomb..was used in.. Khan Sheikhoun". In that report, I showed how Eliot made that claim in the absence of supporting evidence. In this report, I will shift the focus to his claim an M4000 was also used at Lataminah on the 30 March 2017.
Having unsuccessfully tried to inform Higgins that he was using the same image to claim two separate "chlorine attacks" I decided to post on his blog to inform him. The post went "live" then a short while later went to 'moderation'. It never appeared again. Here it is in full.